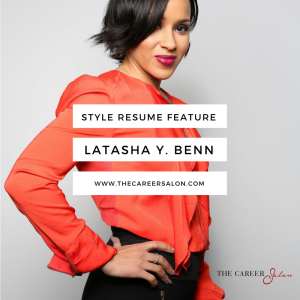 We have very special guest, with an exciting background in the salon today! I'm glad to personally know the mover, shaker, beauty guru, and all-around amazing person who I have great respect for, LaTasha Y. Benn. LaTasha started doing makeup professionally in 2005 after being inspired by her cousin during a photo shoot in Atlanta, GA.  What was just a quick and very much last-minute makeover turned into a photo shoot that allowed her to meet and network with some awesome photographers. At that point, LaTasha learned quickly that a career could be made as a professional makeup artist.  Since then, LaTasha has received training from celebrity makeup artists such as Marietta Carter-Narcisse, Sam Fine, Renny Vasquez, Tatiana Ward (Beat Face Honey), Candace Corey and Merrell Hollis, as well as worked for MAC Cosmetics, Benefit Cosmetics and Laura Mercier, and has received her Esthetician License in 2013. Although natural and enhanced looks is what LaTasha specializes in, she also enjoys creating fun and dramatic looks for fashion shows, beauty pageants, photo shoots and fitness competitions. In addition, LaTasha educates women on how to enhance their own beauty through her annual make-up workshops called, ENHANCED. ENHANCED is a hands-on makeup workshop designed to teach the everyday woman how to properly select and apply makeup on themselves, as well as teach them advanced techniques and fun tips & tricks. If you were to ask LaTasha why she left her corporate job as a Human Resources professional to become a full-time makeup artist, she would tell you that she absolutely loves what she does – "portraying external and internal beauty through color and confidence".  LaTasha, also known as LYBartistry, which stands for Love Your Beauty was created to promote self-love, confidence and the notion that you do not need makeup to be beautiful, but who says you can't have fun with it!
Experience:
What is your current occupation and how long have you been in your career?
Every time someone asks me what I do or what my occupation is I kinda stumble over my words trying to explain all of what I do. First and foremost, I'm a makeup artist & skincare therapist and am establishing myself as a blogger. In addition to that I am still holding on to my recruiting career and working as an independent consultant for various companies. I started my career in Human Resources, where I was a recruiter for about 7 years. During those days, being a makeup artist was nowhere in my thought process. I knew I loved doing makeup, but never really thought I could make a career out of it. But then I started to meet other makeup artists who were working full-time in the industry and loving it. Although, I've been doing makeup on the side since 2005, it wasn't till 2013 when I realized I wanted to transition my career into the beauty industry. I went back to school, but this time to get an esthetician license, and left my corporate, stable, comfy job to work at the Benefit Cosmetics makeup counter. That begin my full-time career in the beauty industry. I thought I was done with recruiting forever, but then I was approached by a friend who had just established her own consulting firm and was looking for assistance. I got the recruiter itch and continued to consult for other companies. So now, to make long story short. I am a makeup artist, skincare therapist, blogger, and recruiting consultant.
Education:
Where did your style originate and who or what are some of your influences?
This is a funny question to me because I never really look at myself as being stylish. I tend to just throw things together when getting dressed. Nowadays with social media I am able to get a lot of style inspiration from Instagram and Pinterest. Right now it seems all my style influences come from Fashion Bloggers, Kyrzayda Rodriguez (IG @kyrzayda_) and McKenzie Renae (IG @mckenzie_renae). I'm also a big fan of Tracee Ellis Ross and get a lot of hair, beauty, and fashion ideas from her.
References:
Who are some of your favorite designers? What stores do you prefer to shop?
I don't necessarily have any favorite designers, but I do really like June Ambrose's funky, colorful and artistic style. As far as shopping I always win with BCBG, Rachel Roy, Express, Zara, and Urban Outfitter. I can walk into any of those stores and always find something I HAVE to have.
Career, Beauty, and Style:
Do you think personal style is important as it relates to your work?   If so, how?
Most definitely! As a professional in the beauty industry, I think it's extremely important to look the part. If you catch me at home, I'm wearing workout clothes, no makeup, and with my hair in a bun. But, if I'm working or hanging out I always make sure my clothes, makeup, and even my nails are on point. Most makeup artists are creative and artistic in other areas outside of makeup so our creativity comes out in our clothes, hair, and nails as well. I think there's an expectation for makeup artists to be put together from head to to. When I worked in retail customers would specifically pick me out to do their makeup because they liked my style (hair, makeup, and how I presented myself).
How would you personally define the word beauty?
Beauty is being comfortable in your own skin. Looking in the mirror with no makeup on, with your hair in shambles, and your belly poking all the way out and knowing that you are beautiful. I always tell my clients, "beauty isn't what you see, it's how you feel".
If you had a dream career/occupation what would it be?
Being a makeup artist has been my dream career for a long time. And I'll always want to do something within the beauty industry, but lately I've been obsessed with health & fitness. So now, I guess my dream career would be something within the fitness world, like a yoga instructor. And since last year I've been wanting to have my own food truck, healthy food of course.
What's the best advice you could give someone seeking a new career?
Have a game plan. I know some people that just up and quit their jobs with no plan in order to pursue another career. For some it worked out, but for most they struggled. Create an exit strategy. If this new career requires a specific certification, additional education, financial investments, or whatever, work on those things while in your current job before making the switch. You'll be busy and tired because you'll feel like you're working 2 jobs especially if you're going back to school or starting your own business, but it'll all be worth it when you transition into your new career.
Quote that keeps you motivated?
I've always loved Maya Angelou, so this is one of my favorites from her.
"My mission in life is not merely to survive, but to thrive; and to do so with some passion, some compassion, some humor, and some style."
Where to find LaTasha:
FB: LaTasha Benn | IG: @lybartistryofficial and @la.yo.be | Twitter: @LYBartistry